DESKTOP SOUNDBOARD BUILDER
Only 2.5mb, My Soundboard (Beta) is a very simple way to create, manage and play mp3 soundboards right on your desktop while also giving you access to our massive catalog of sounds. Here are the deets...
Small desktop program (only 2mb)
Create endless playlists
Add free tracks from our library of sounds
Upload mp3s from your local drive
Drag-n-drop sounds into your Playlists
Purchase 'Restricted' sounds
Secure, simple and fun
Slick, easy alternative for your music and sounds
Compatible with Windows, Mac OS
NO malware, spam, adware or add-ons…guaranteed
100% free for all SB members
Version 1.2.4
My Soundboard is free for all members - and membership is free. Not a member?
Register »


MySB is small, secure and exceedingly simple to use – add tracks off your hard drive or drag-n-drop them into your playlist from our huge library of sounds.
QUICK TOUR...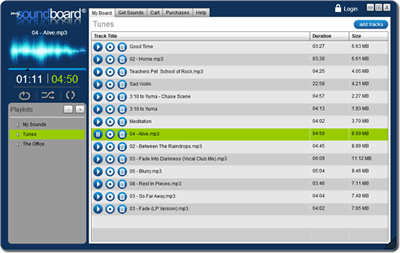 My Board
Displays your selected Playlist for play, sorting, editing and deleting. Also includes sort, loop, shuffle and play-all buttons and functions. The 'Add Tracks' button lets you upload local mp3 audio files to your Playlists.
Get Sounds
The 'Get Sounds' tab gives you full access to Soundboard.com's massive library of tracks. Want a sound? If it is a 'Public' soundboard, just drag-n-drop into a playlist. If 'Restricted', you can purchase the sound and then add it.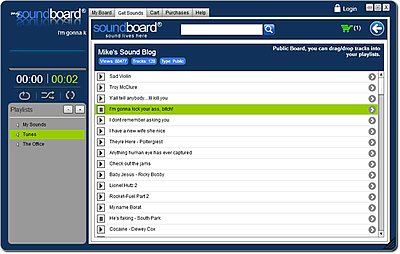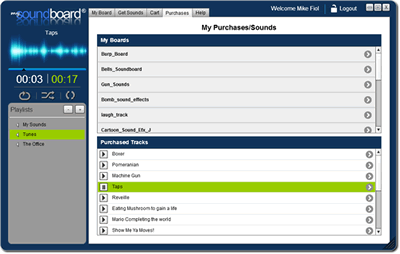 Purchases
This tab keeps track of every track or soundboard you have ever purchased or bought off our site. Also available online. For single tracks, drag-n-drop in your playlists. For 'full board' purchases, visit the soundboard, drag-n-drop any track on the board into your playlist.